Don's Story
Don Deville of Ville Platte, Louisiana, suffered with severe degenerative disc disease at the L3/4 and L4/L5 levels of his lumbar spine. The pain from the compressed sciatic nerve radiated down his right leg, causing numbness from the thigh to the calf. Don's right leg was growing increasingly weaker.
Eventually, as Don states, "Sitting became my exercise of choice. I spent a lot of time by myself and didn't go out much because I couldn't". Even if Don did venture out there was always the chance that his weakened right leg would collapse when he tried to extend it.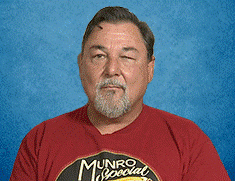 Don's primary care physician recommended a spinal fusion. His best friend, Quentin Doucet, felt that there had to be better option somewhere and commenced to doing research. Don and Quentin were immediately impressed by the professionalism of The Bonati Spine Institute personnel and immediately felt a high comfort level.
Five hours after surgery Don walked out of The Bonati Spine Institute under his own power and with the strength restored in his right leg. His surgeon, Dr. John Grossmith remarked that "… when you see results that are a major change that's very rewarding."
"… when you see results that are a major change that's very rewarding"
Don, like Quentin, is a "motorcycle guy". He is the proud owner of an 895 lb. 2009 Harley Davidson Eagle Road Glide. Upon returning to Louisiana they began preparation for a 10,000 mile ride up into Canada and back.