Spinal Revision Surgery For Hardware Removal
The Bonati Spinal Hardware Removal Procedure is used to correct previous failed back surgery. The Bonati Spine Institute holds 7 U.S. patents on its instrumentation and procedures including those required for removing spinal hardware.
A wide array of hardware is commonly used in instrumented spinal surgery. This hardware may include: titanium, titanium-alloy, stainless steel, or non-metallic devices such as harrington rods, rod clamps, screws (pedicle screw, Herbert screw, Acutrak screw, cannulated screw, cortical screws, cancellous screws), plates, wires, cages, Hartshill
rectangles, etc.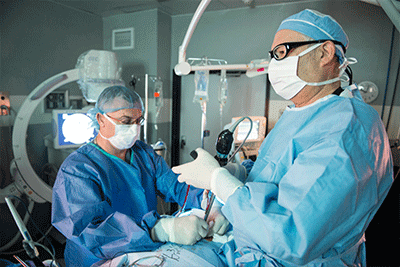 What happens During Surgery?
The spinal hardware removal process is completed incrementally, one vertebral level at a time, through a small incision, utilizing specialized patented instrumentation. Through the use of local anesthesia and conscious IV sedation, the patient is comfortable, responsive and able to provide feedback to the doctors throughout the procedure. This allows the surgeons to target the source of pain with pinpoint accuracy.
After localizing the source of pain, usually in the spinal canal or the foramen, our surgeons use our patented instrumentation to remove the spinal hardware.
Following the successful removal of hardware, our surgeons may perform the following surgeries:
• The Bonati Discectomy: in which the diseased portion of the disc that is causing nerve compression is removed using specially adapted patented endoscopic instruments, and a laser is used to shrink and remodel the remaining disc.
• The Bonati Laminotomy: in which an opening is made in the lamina to approach the intervertebral disc.
• The Bonati Laminectomy: in which part of the lamina, or the bony arch of the vertebrae covering the nerves of the spine, is removed, to widen the spinal canal and relieve pressure on the spinal cord.
While in the operating room, the surgical team will confirm the patient is able to complete a series of mobility exercises and verify that the pain has been successfully treated.
Recovery from Spinal Hardware Removal Surgery
After the procedure, the patient is transferred to the post-operative care unit for rest and observation, and then a post-operative consultation with the surgeon will help determine if additional procedures included in the surgical plan are necessary.
Follow-up surgeries are usually scheduled within a few days of the first surgery, to allow any swelling to subside. During this time, the patient will be given a regimen of walking therapy. Pain relief medication may be used and you will want to be sure that you arrange someone to drive you home. Most people recover very well after the removal of spinal hardware.