Alfred Bonati, MD
Founder and Chief Orthopaedic Surgeon
Dr. Bonati is the chief orthopaedic surgeon and founder of The Bonati Spine Institute. He is a graduate of the University of Seville and the Bowman Gray Medical School, and completed internships and residencies at Cook County Hospital in Chicago, the University of Alabama, and Georgetown University. Dr. Bonati is also a Diplomate in the International College of Surgeons, the American Board of Neurological, Orthopaedic Medicine and Surgery, and the Arthroscopy Board of North America. He is the author of the book No More Back Pain: A New and Proven Program to Free Yourself from Back Pain for Life. His work on outpatient, minimally invasive spine surgery made medical history by providing an alternative to the traditional open back surgery to treat many spinal conditions.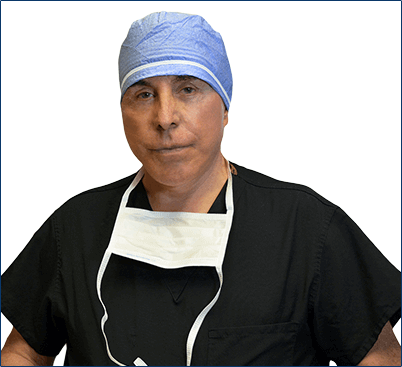 Certification
• Educational Commission for Foreign Medical Graduates
Education and Training
• University of Seville, Seville, Spain – Medical School: M.D.
Internships
• Suburban Hospital, Bethesda, M.D.
• Franklin Square Hospital, Baltimore, MD, General Surgery
• Cook County General Hospital, Chicago, Illinois
Residencies
• University of Alabama, Birmingham, Alabama. Neurosurgery supernumerary; rotation; neurosurgery – pediatric and adults at both University Hospital and Veterans Hospital under the direction of Dr. Gailbraith.
• Washington Hospital Center, Washington, DC
• Georgetown University, Washington, DC, General Surgery
• Bowman Gray School of Medicine, Wake Forest University, Winston-Salem, NC, Four year Orthopaedic Residency which included: General adult orthopaedics; Crippled children's clinic; Extensive training in clinical and surgical scoliosis management; Hand surgery and microvascular and re-implementation surgery. Moses Cone Hospital: Arthroscopy and intra-articular surgery; General orthopaedic and trauma. Forsyth Memorial Hospital/Whitaker Care Center: Rehabilitation training. Wake Forest University: Clinics in amputee and myelodysplasia.
Professional Associations
• International College of Surgeons in Orthopaedic Surgery
• The American Academy of Neurological and Orthopaedic Surgeons
• Southern Orthopaedic Association
• International Intradiscal Therapy Society
• Bowman Gray Alumni Association
• Society of Laparoendoscopic Surgeons
• Association of American Physicians and Surgeons
• Southern Medical Association
• American Medical Association
• American Association for the Study of Headache
• North American Spine Society
The specialty recognition identified herein has been received from a private organization not affiliated with or recognized by the Florida Board of Medicine.