Radiculitis Treatment & Surgery Options
Seeking treatment for radiculitis should not be delayed. Depending on the severity, certain muscles (e.g. muscles in the toes, feet and calves) may begin to atrophy over time, which, in turn, may require physical therapy for recovery. Also, radiculitis is known to cause patients to "favor" certain muscles or a certain side of their body, which can result in the over development of those muscles relative to the ones that don't get used as much.
When radiculitis pain is severe or does not responded to conventional treatments, such as rest, analgesics, anti-inflammatories, muscle relaxants or physical therapy, or the pain is due to previously failed back surgeries, surgical intervention may be required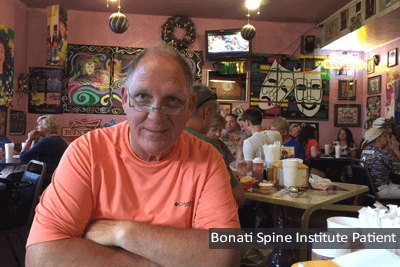 Using local and IV anesthesia, our experienced spinal surgeons insert specially designed instruments directly over the affected area. A laser is then used to obliterate the medial branch of the spinal nerve. The patented Bonati laser spine surgeries are done in an outpatient setting and do not require hospital stay. Benefits of the Bonati Spine Procedures include rapid recovery to a normal lifestyle, local anesthesia, minimal blood loss, minimal damage to tissues, small incision and fewer risks and complications compared to traditional open surgery.
The Bonati Spine Surgery For Radiculitis
The Bonati Spine Institute offers an array of patented spine surgical procedures to treat radiculitis. These procedures may include:
• LASER DEBRIDEMENT for Radiculitis
Debridement of the lumbar, thoracic or cervical spine. Debridement is the surgical removal of torn, inflamed, contaminated, damaged or dead tissue.
The Bonati Spine Institute encourages patients with radiculitis to contact us to request a no-obligation MRI review or discuss your conditions with our medical professionals. Find out why The Bonati Spine Procedures are considered to be among the world's best solutions when it comes to advanced spine surgery. Your pain from spinal stenosis can become a thing of the past.