Spondylosis Causes
As people age, the intervertebral discs lose hydration and elasticity, which can cause fissures and cracks in the outer wall of the discs, and ultimately a flattening that causes the outer wall to bulge.
Surrounding ligaments also lose elastic properties, and can result in bone spurs. This gradual deterioration of the discs between the vertebrae is also referred to as degenerative disc disease. When spondylosis occurs in the facet joint, it can also be considered facet syndrome. Spondylotic changes can also result in spinal stenosis and foraminal stenosis.
Spondylosis can occur in the cervical, thoracic or lumbar spine.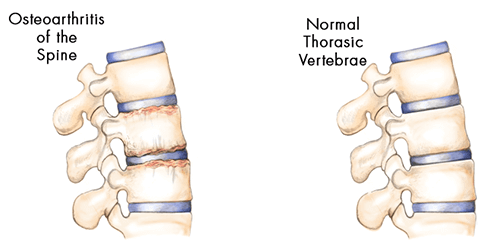 Statistics on Spondylosis
Symptoms of cervical spondylosis may appear in those as young as 25 years, and spondylosis usually starts earlier in men than in women.
Spondylosis is a common condition that is estimated to account for 2% of all hospital admissions.
It is the most common cause of spinal cord dysfunction in patients older than 55 years.
Approximately 90% of men ages 50 and older — and 90% of women ages 60 and older — have evidence of degenerative changes in the spine.
The Bonati Spine Institute encourages patients with spondylosis to contact us to request a no-obligation MRI review or discuss your conditions with our medical professionals. Find out why The Bonati Spine Procedures are considered to be among the world's best solutions when it comes to advanced spine surgery. Your pain from spondylosis can become a thing of the past.